Before You DIY: 12 Safety Precautions and Best Practices
Safety first! No matter how big or small the project, these tips will help you prevent DIY disasters.
Anyone who has ever worked in construction knows the importance of following basic safety guidelines on the job. It can be the difference between a good day at work or a very bad one.
Safety measures are no less important when you're tackling DIY projects at home. Whether you're a budding DIYer or a seasoned, handy homeowner, it never hurts to take a few precautions so you can enjoy working in comfort and safety.
Prevent fires
Always keep a working fire extinguisher at the ready. Be careful with oily or solvent-coated rags, and store them in an airtight, metal container with a lid, preferably half-filled with water. Dispose of the rags according to your community's guidelines.
Always use clamps to hold wood
Protect your hands, and never use them to hold wood that you're working with. Invest in a good variety of midrange clamps so you'll always have the right one on hand.
Keep a first-aid kit handy
As a good general practice, keep a basic first-aid kit in any area of the home where you'll be working — your garage, kitchen, workshop, outdoor shed, etc.
Maintain adequate lighting
In your home, lighting may be a design issue. But in your garage, basement, or shop — it's all about safety.
Work with bright overhead lighting that you can switch on when you enter your workspace. It's always helpful to have task lighting, too. You can purchase inexpensive LED shop lights from most home improvement stores.
Use personal protective gear
Wear safety glasses, hearing protection, gloves, and sometimes a respirator, depending on the type of project and the tools you're using. The best way to ensure that you actually use protective gear is to have it readily available and on hand.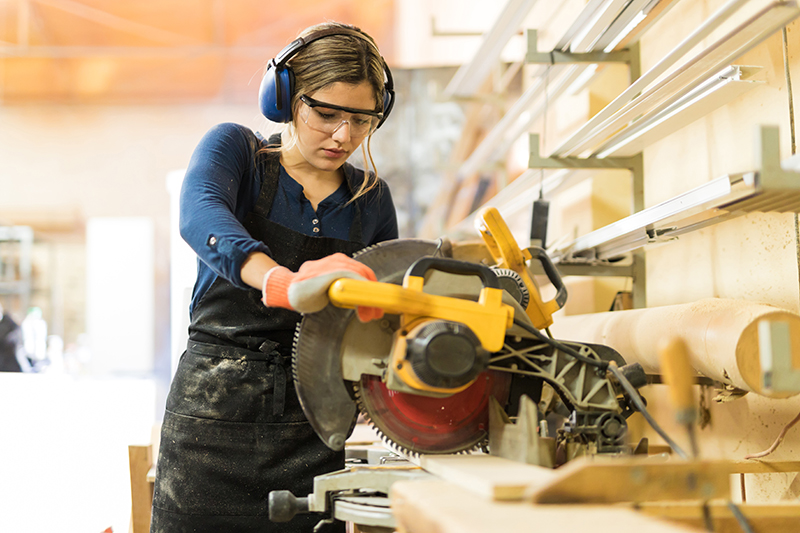 This equipment isn't terribly expensive, so invest in some disposable ear plugs, a few pairs of safety glasses, disposable waterproof gloves, etc. Then keep them in areas where you plan to work.
Eliminate tripping hazards
It's easy to let the project's mess get away from you, but it's no fun when you trip over an extension cord or slip on an oil slick.  At the end of each day, tidy up! Then your shop will always be ready for the next day of DIY projects.
Avoid working when tired
It goes without saying that you shouldn't operate power tools if you're impaired by alcohol or medication. But did you know that being overtired can also slow down your reaction time by half? We think that's reason enough to save the job for another day, when you're rested and alert.
Always dress appropriately for the job
It may be tempting to work in flip-flops when the sun's high in the sky, but why take a chance of hurting yourself?
Before starting any job that involves tools — especially power tools — take a few moments to put on closed-toe shoes, remove dangling jewelry, and tie back long hair.
It takes just a few minutes to protect yourself. Use common sense, and you'll be fine.
Ventilate when painting
Generally speaking, painting is among the safer of the home DIY projects — just don't forget to ventilate the room. Open windows and use fans. If you're working in a closet or area that's difficult to ventilate, consider wearing a respirator and working in shorter intervals.
Read the instruction manual
It may seem obvious, and it may seem like a chore. But in our experience, it's just a good practice to read the instruction manual that comes with any new tool or piece of equipment.
It's fine to watch a video on YouTube or ask a veteran DIY-er for tips. Just remember that not all tools and equipment are made the same. So, before you flip the switch on that wonderful new circular saw, make sure you understand how your model works.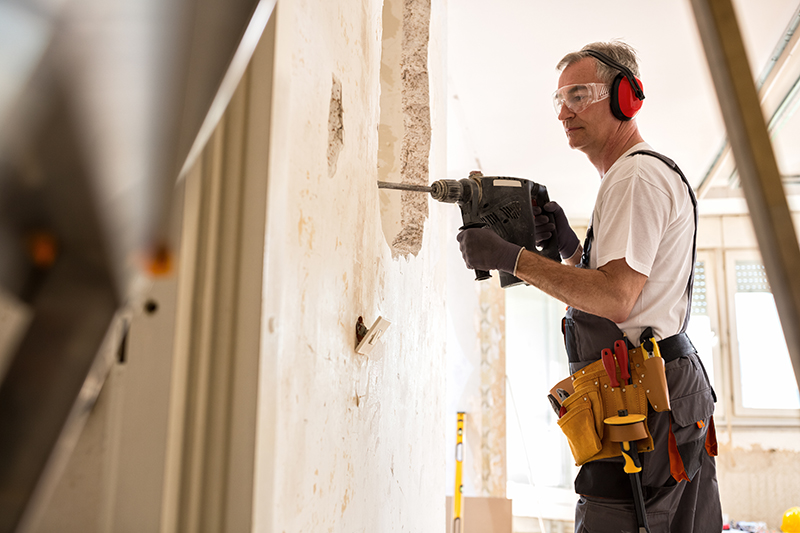 Stay aware of your surroundings
Keep children and pets away from the work area when you're using power tools. They may get underfoot and distract you from the project at hand.
Additionally, always unplug your tool before making adjustments to it, such as switching a saw blade. And if you turn off your home's power to work on an electrical project, put a warning sign on the breaker box so nobody inadvertently turns it back on.
Put safety first
This is really the No. 1 rule. In essence, it means that no job or DIY project is more important than your own safety and well-being.
Every project can wait until you run to the store and replace those broken safety glasses, or learn how to properly operate that cordless drill. If you always put safety first, you'll have great success with your DIY projects for many years to come.
Reference:https://www.zillow.com